HelloFresh Steakhouse Pork Chops with a Creamy Pan Sauce and Lemony Green Beans

5-Stars I totally want this again!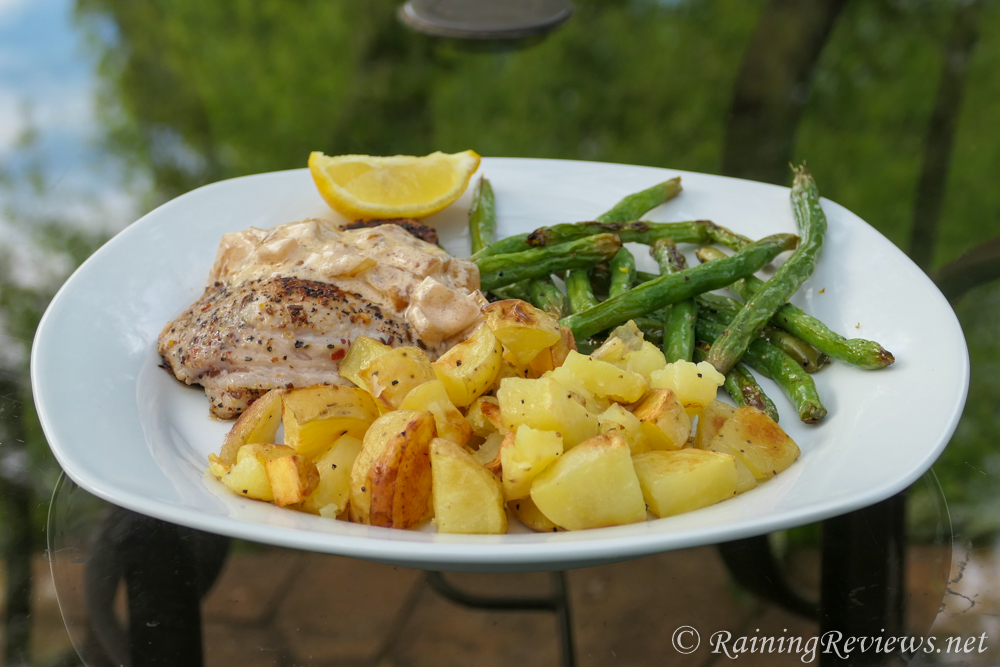 My family finally gave HelloFresh a try last week. Our first meal was the Steakhouse Pork Chops with a Creamy Pan Sauce and Lemony Green Beans. It was SO GOOD!
Value: Hello Fresh meals are a bit out of my budget range. But the current Hello Fresh promotion made it easier to try! Preparing this meal was cheaper than going to a nice restaurant and the ingredients were better than what I normally pick up at the store!
Ease of Preparation: My teenage daughter prepared and plated this meal with almost no help from me. I imagined that preparing dinner kits would be a fun family activity, but it was a tiring week. This meal was definitely more work than throwing together a sandwich or making a plate of spaghetti. And there were plenty of dirty dishes at the end. But it wasn't too bad.
* Bonus points to HelloFresh for letting us see the recipes along with what ingredients are included and what ingredients and kitchen gadgets you assume we will already have on hand.
Portions & Health: At 520 calories with plenty of vegetables, I would say that this was a reasonable dinner. The portion size was near-perfect, but I did end up snacking a little more before bed.
The Food: The pork was tender and delicious. The seasoning and pan sauce were excellent touches! We did slightly alter the pan sauce by using chicken broth instead of the included beef stock concentrate.
I like roasted potatoes, but this was my first time trying roasted Yukon Gold potatoes. I was surprised how different they were from my usual Russet, Baby Reds, and Sweet potatoes.
This was also my first time to try roasted green beans. They were pretty good and I'm eager to try them again!
The Unused: One of the selling points for meal kits is that they cut down on food waste. This meal for two left us with half a lemon and half an onion. There were also two green beans that went to the trash because they didn't look as fresh as the others. My daughter said they were probably fine, but I ran to the store for a lemon zester and when in doubt, she threw it out.
Want to try HelloFresh?
CLICK HERE for current Offers!
Delivery experience: Everything was well packed. Despite being delivered 26 hours later than scheduled, the contents were still cold and fresh! As expected, there was an assortment of paper bags, plastic, and the box that will have to be disposed of. Much of this is recyclable, but recycling options are currently limited in my town.
Will I make this again? Absolutely! I would totally order this kit again in the future (assuming there aren't too many other things I am eager to try.) And I kept the recipe card so we can create it again from store-bought ingredients.