What I wish I knew before choosing a dark floor | Deco Floor Stone Core Plus Reclaimed Barnwood Review
My house is undergoing some big renovations this year. Most recently, we replaced some of our old Laminate Flooring with Deco Floor's Reclaimed Barnwood Vinyl Plank SPC. 
What I like about our Luxury Vinyl Plank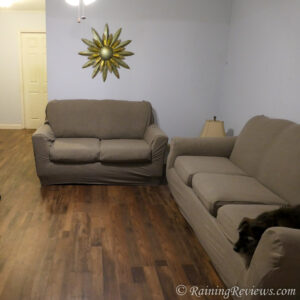 This type of flooring was recommended by multiple people. I was told that it is waterproof and more durrable than hardwood or laminate.  
I also appreciate the simplicity of floating tongue & groove planks vs the stuff I used to watch be glued down at my grandmother's house. 
And I like that the glare is not as bad off of our vinyl plank compared to our previous glossy laminate plank. … That said, the glare that is there clearly screams "I am vinyl."
What I don't like about the dark Reclaimed Barnwood color
I had some specific colors and shades in mind when I started my search for new flooring. Unfortunately, those colors and shades were not in stock within my budget. 
I read that dark wood looking floors can make a room feel more "open." So I went a few shades darker with Deco Floor's Reclaimed Barnwood. … Here are the things I wish I had known before:
Dark floors show dirt – So much dirt! We have pets running in and out of the house throughout the day. Their little paws track in light colored sand.
It also shows the marks where I dragged our coffee table. – Not too bad. But I don't think I would have noticed the marks if I went with a lighter color.  
The areas where I installed this floor in do not feel any more "open." 
I thought the dark floor would brighten the next room by contrast. – Instead the next room feels dreary. Reclaimed Barnwood does not compliment my kitchen cabinets. … That said, I was already considering painting the kitchen cabinets. 
And my dark brown dog blends in too well with my dark brown floor. 
Change Is Hard!
This is a fine floor. And I really do love the color in the right lighting. But my house currently feels very off balance. I need time to adjust and I think it will help when we move the rest of the furniture back into our livingroom.
I really do like this flooring! I feel like this color is what my house should have in it. … It only goes with about half of our existing furniture. But the stuff it doesn't match can be re-covered or re-painted if I don't get used to it.