HelloFresh Gouda Pork Burgers with Roasted Broccoli

3-Stars It just wasn't something I enjoy. But it did have potential to inspire future burgers.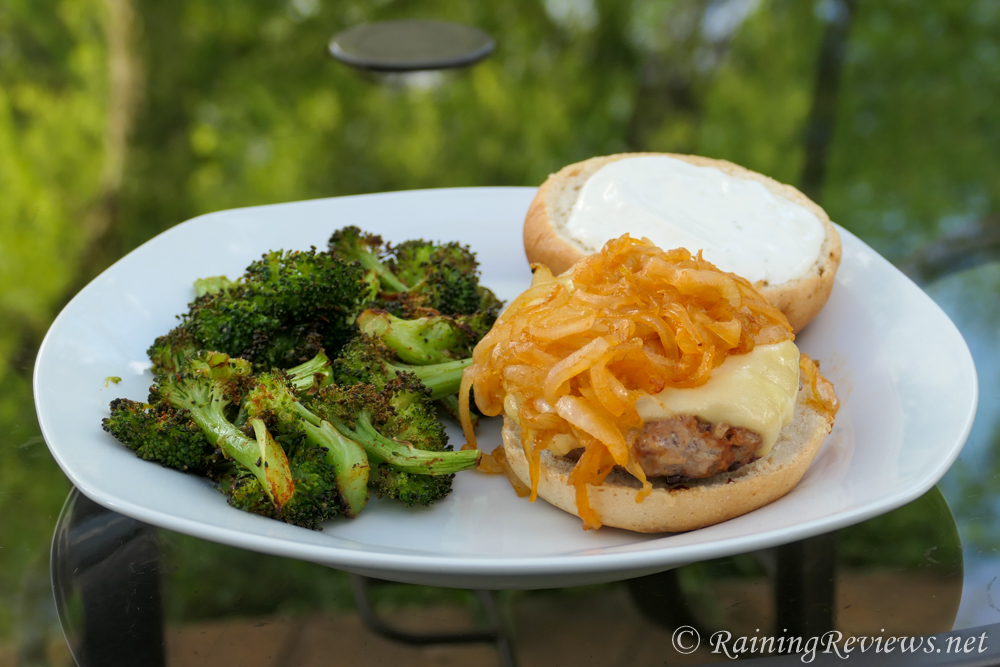 My family finally gave HelloFresh a try last week. Our second meal was the HelloFresh Gouda Pork Burgers with Roasted Broccoli. I was looking forward to this meal, but we didn't really enjoy it.
Value: Hello Fresh meals are a bit out of my budget range. But the current Hello Fresh promotion made it easier to try! Preparing this meal was cheaper than going to a nice restaurant and the ingredients were good quality.
Ease of Preparation: My teenage daughter prepared and plated this meal with no help from me. It was easier to prepare than our previous Steakhouse Porkchops.
Portions & Health: At 1,000 calories with lots of creamu sauce, I would say that this was a very heavy dinner. In fact, neither my daughter nor I could finish our whole plate.
The Food: With this meal I learned that I probably do not like roasted broccoli very much. The quality of ingredients was OK, but everything except the broccoli just seemed so "heavy." In fact, I ended up raking most of the sauce off of my burger, cutting the meat to half thickness, and topping it with the broccoli just to lighten it up enough that I could stand it.
I do think some of my friends would have enjoyed this meal. I will keep the recipe card to make a few changes next tiem they come over. .
The Unused: All of the ingredients were used while preparing this meal! Unfortunately, it was just too much food and we did not enjoy it enough to finish as leftovers. So we did have some end up in the trash.
Want to try HelloFresh?
CLICK HERE for current Offers!
Delivery experience: Everything was well packed. Despite being delivered 26 hours later than scheduled, the contents were still cold and fresh! As expected, there was an assortment of paper bags, plastic, and the box that will have to be disposed of. Much of this is recyclable, but recycling options are currently limited in my town.
Will I make this again? When and if the right friends come over, I will make this again. I would like to make a lighter version of it in the future.